VINTAGE BATHING SUITS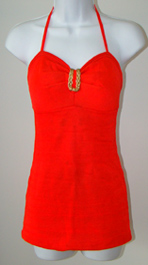 RED 1940's GANTNER GLO SWIMSUIT
Bombshell bright red-orange 1940's swimsuit!
Gantner advertised the color of these suits as "daylight fluorescent"
Made with Lastex. Lots of stretch.
Gathered bust with pretty gold braided detail.
Straps tie around the neck creating a halter look. Additional straps tie around the back.
Leg openings hidden under modesty panel.
Label - "Gantner - Coldfire Glo Suit"
Note - A few marks on suit. Two runs in the fabric near back of suit (see photos).
CONDITION:
Very Good
SIZE:
Bust - 34-35" Waist - 29-30" Hips - up to 38" Leg openings - up to 22" around.
Length - 18" from under arm to bottom hem.
PRICE:
$250
more photos/order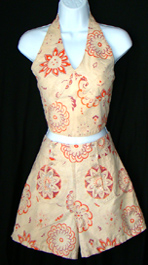 TWO PIECE 1940's SUNSUIT

Gorgeous 2 piece 1940's sun suit!
Maybe not for swimming but perfect for sun bathing.
Cream color with a cute pattern of orange and purple. Feels like cotton.
Top is halter style with ties around the neck and back.
Shorts open with 2 sets of clear glass buttons in front.
Two labels inside shorts - "Made and styled in Hawaii" and "Nelson Tucker"
Note - Light marks on shorts (see photos) and one repair.
Shorts have a bit of fade. Vintage buttons were replacements as originals were missing.
CONDITION: Good
SIZE: Bust of top - 32-33" Waist of shorts - 28" Hips - up to 38"
Side length of shorts - approx 15"
PRICE: $180
SOLD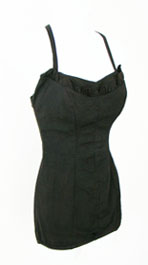 BLACK GANTNER 1950's SWIMSUIT

Fabulous black 1950's bathing suit.
Boning in the bust for a flattering fit.
Pretty ruffle like design across top of bust.
Adjustable criss cross straps.
Opens with a center back metal zipper closure.
Elasticized leg openings with modesty panel in front.
Label - "Gantner" *Photos have been lightened to show detail.
Note - There is wear to fabric and some fading (see photos). Some stressed seams.
CONDITION: Good
SIZE: Bust - 34-36" Waist - 25-29" Hips - 35-39" Leg openings - up to 23" around.
Length - 18" from under arm to bottom hem.
PRICE: $90
SOLD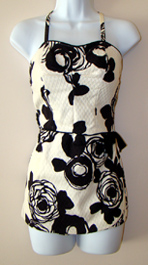 WHITE & BLACK 1960's SWIMSUIT

Stunning early 1960's bathing suit.
White with black floral print.
Fitted with wrap style modesty panel.
Cute black bow at waist.
Adjustable straps have button closures in back, and can also be tied around the neck.
Elasticized leg openings and shirring in the back of suit.
No Label.
Note - Some of the seams are stressed.
CONDITION: Very Good
SIZE: Bust - 30-32" Waist - 24-27" Hips - up to 34" Leg openings - up to 20" around.
Length - 21" from highest point of bust to bottom hem (not including straps).
PRICE: $160
SOLD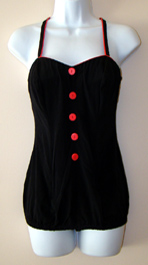 BLACK 1950's CATALINA SWIMSUIT

The cutest 1950's bathing suit!
Black with 5 red buttons down the front of suit.
Red piping along top and straps.
Bullet style bust.
Adjustable criss cross straps have button closures in back.
Elasticized leg openings.
Center back metal zipper closure.
Label - "Catalina"
CONDITION: Excellent
SIZE: Bust - 32-34" Waist - 27-29" Hips - up to 38" Leg openings - up to 23" around.
Length - 20" from highest point of bust to bottom hem (not including straps).
PRICE: $150
more photos/order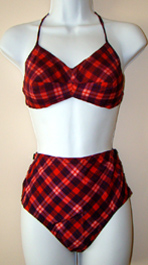 1950's FRENCH BIKINI

Wow! Rare original 1950's french bikini!
Swimsuit is made from rayon.
Cute plaid pattern in red and purple.
Bottoms have uniquely designed sides.
Adjustable straps around neck and across back of top.
Button closure on each side of bottoms.
Label - "Réal"

CONDITION: Excellent
SIZE: Bust - 33" B cup Waist - 28" Hips - 36" Leg openings - up to 21" around.
Side of bottoms - 5.5" from top of waist to leg opening.
PRICE: $250
more photos/order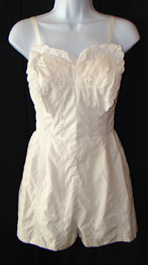 WHITE 1950's SUN SUIT

Absolutely adorable 1950's playsuit or swimsuit!
Pretty white cotton eyelet.
Decorative ruffled trim on bodice. Built in bra.
Shirring with elastic in the back of suit.
Adjustable straps have button closures in back. Elasticized leg openings.
Center back metal zipper closure.
Label - "Alix of Miami"
Note - A couple pin pricks and dark thread near top of bodice (see photos).
CONDITION: Excellent
SIZE: Bust - 31-33" Waist - 24-25" Hips - up to 37" Leg openings - up to 23" around.
Length - 23.5" from highest point of bust to bottom hem (not including straps).
PRICE: $170
SOLD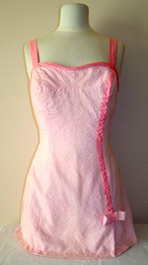 PINK 1950's BATHING SUIT

Late 50's/early 60's pin up girl swimsuit!
Shades of pink with cute bow details on front and back of suit.
Top half of sides are shirred with elastic for a nice fit.
Adjustable shoulder straps. Bust has a slight bullet shape.
Elasticized leg openings under skirt.
Center back metal zipper closure.
Label - "Muriel Original"
Note - Fading down the front of suit.
CONDITION: Very Good
SIZE: Bust - 39-40" Waist - 32" Hips - up to 42" Leg openings - up to 28" around.
Length - 24" from highest point of bust to bottom skirt hem (not including straps)
PRICE: $90
SOLD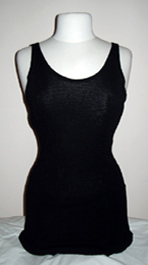 BLACK 1920's BATHING SUIT
Wow, what a find! Super cute flapper era one piece swimsuit.
Made from black wool and extremely stretchy. Panel/skirt covers attached matching shorts. Amazing wearable condition! Label - "Elbro - Knitted Outerwear". Note - Small repair on back of shorts (see photos), but not visible when worn as skirt covers it. A couple tiny holes in wool, only noticeable upon close inspection.
CONDITION: Very Good
SIZE: Bust - 34" when laid flat, but stretches up to 40" (Dress form is 36" bust and suit is too large). Waist - 31" when laid flat, but stretches up to 34"
Hips - 36"- 40" Leg openings measure 20" around but stretch up to 22"
Length from top of shoulder strap to bottom of skirt is approx 29"
Armholes measure approx 25" around
PRICE: $300
more photos/order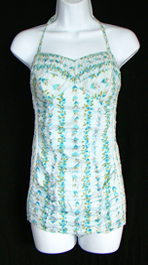 BLUE FLORAL PRINT 1950's SWIMSUIT AS IS
Really sweet 1950's vintage swimsuit.
Turquoise blue fabric feels like a cotton blend.
Cute print of green and blue hearts and flowers.
Pretty ruffled detail along the bust and down the front. Shirring on back of suit.
Bust is lined. Straps can be buttoned in the back, criss crossed or tied around neck.
Label - "Web Foot"
Note - Bottom back has lost a lot of its shirring and is no longer stretchy. Swimsuit has lost some of its elasticity. There are some light stains to the inside of the suit.
CONDITION: Good
SIZE: Bust - 34-35" (A or B cup max) Waist -approx 30"
Hips - approx 40" Length down the side - approx 17.5"
PRICE: $40
ON HOLD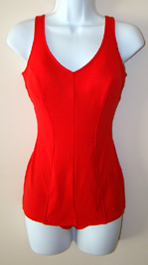 1960's RED VINTAGE SWIMSUIT
Gorgeous early 1960's red vintage swimsuit.
Deep scooped back with princess seams in front.
Built in bra with adjustable shoulder straps.
Label - "Sea Vogue Originals" "34/12"
Note - Run in fabric at crotch area. Only noticeable upon close inspection. Elastic under bra liner is a bit stretched.

CONDITION: Very Good
SIZE: Bust - 34" Waist unstretched 22" - stretched 26"
Hips unstretched 30" - stretched 35"
Length - 16.5" from under armpit to bottom hem
PRICE: $60
more photos/order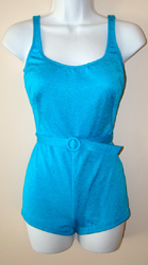 BLUE 1960's SWIMSUIT
Fabulous one piece 60's vintage bathing suit.
Deep scooped back with attached belt.
Built in bra.
Adjustable shoulder straps.
Label - "Glenbrooke - California created by Sea Lure" "10/32"
Note - Light mark on front below waist.

CONDITION: Very Good
SIZE: Bust - 33"-34" Waist unstretched 24" - stretched 26"
Hips unstretched 31" - stretched 35"
Length - 18" from under armpit to bottom hem
PRICE: $70
more photos/order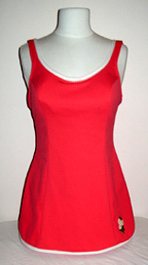 PEACH 1960's BATHING SUIT
Cute late 60's/early 70's polyester bathing suit.
Deep scooped back with princess seams in front. Skirted bottom.
Built in bra with stiff cups, and adjustable shoulder straps.
Peachy/orange color with white edges, and embroidered flowers near bottom of skirt.
Label - "Sea Lure - California"
Note - Pinhole under left armhole.

CONDITION: Very Good
SIZE: Bust - 38" Waist unstretched 28" - stretched 30"
Hips unstretched 36" - stretched 39"
Length - 19.5" from under armpit to bottom hem
PRICE: $30
SOLD